The year began with a highly entertaining talk by the Rev. Towyn Jones of Carmarthen on the subject of "Facts, fiction and folklore".
In a talk which was over too soon Mr Jones showed that many things we had assumed to be myth or legend did in fact have a basis in truth, such as the local tale of a red dragon descending on Newcastle Emlyn castle and scaring all the inhabitants of the town away. He also showed that many of the things we assume to be true are in fact mistaken or groundless.
It was obvious that Mr Jones is an accomplished speaker with a real enthusiasm for his subject and we hope that it won't be too long before he returns to regale us with more unusual facts!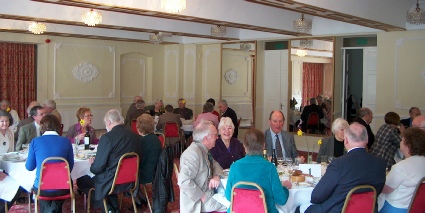 Our March meeting was addressed by next year's Chairman, Peter Woolley, who gave an absorbing talk on his recent journey through the Panama Canal. He had lots of information on the canal itself and on the neighbouring countries, most of which was new to the majority of members present. As usual the talk ended too soon with members asking for more information.
At the end of April we were to have been given a talk on conservation in Cardigan Bay by Sarah Perry, chief administrator of the Marine Wildlife Centre at New Quay, but she was unable to attend due to pressure of work. Her place was taken by Mr Steve Hartley, founder of the Centre and skipper of the survey boat. In a fascinating talk he described the foundation and the work of the Centre and how it was funded by donations and ticket sales to the public. It provides a unique on-going research facility used by graduate and undergraduate students and has enabled them to conduct work which would have cost over £70 000 to support commercially.
He emphasised the importance of respecting the wildlife at sea and gave examples of how seemingly innocuous disregard could have disastrous consequences. All-in-all a thoroughly stimulating and interesting talk which made us want to go and see for ourselves!
On the 7th May we had an extra event organised by Ronnie Hind, a quiz at the Cardigan Golf Club based on photographs of Cardigan town. About 20 members and guests enjoyed the quiz, with three scoring full marks, including some visitors from Canada! Afterwards we all settled down to enjoy a superb light lunch with views over Gwbert and Cemmaes Head to make the day even better! The Chairman spoke for us all when he gave a well-deserved "Thank you" to the other Ronnie!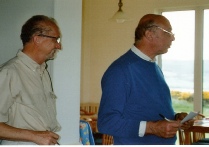 The 2009 AGM and 20th Birthday celebration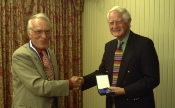 Peter Woolley presents Mike Perry with his Vice-Chairman's collar.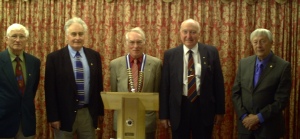 IT'S ALL THEIR FAULT!
Present and past Chairmen, Arthur Walters,
Griff James, Peter Woolley, Ron Knowlton and
Roy Bentley.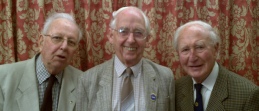 THREE SPRIGHTLY FOUNDER MEMBERS.
Bill Hale, John Robertson and Alan Bell.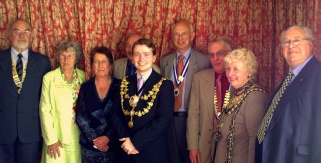 HONOURED GUESTS, LADIES AND GENTLEMEN, ...
Peter and Janet Woolley with the Mayor and Mayoress
Of Cardigan and representatives of Cardigan Rotary Club,
Teifiside Probus Club and the Cardigan Soroptimists.
Barry Greenfield gets no hints from Colin Lewis!
SHORT MAT BOWLS
We and our ladies were again invited to an evening of Indoor Bowls with the Cilgerran Club on Tuesday, 8th September 2009 at Cilgerran Village Hall.
Complete novices and experienced players turned up for an entertaining and enjoyable evening, rounded off with refreshments. Most of us can look back on the occasional master stroke to mask memories of the far more numerous shockers!
In his thanks to the Cilgerran Short Mat Bowls Club Peter Woolley expressed the hope that we might get another invitation next year and this was echoed by all present. Our thanks go to Ronnie Hind for organising a most successful evening.
INVESTIGATING GOVERNMENT
The October and November meetings of the Club were spent with speakers from the spheres of national and local government. In October we welcomed the Welsh Assembly Government Minister for Environment, Sustainability and Local Government, Jane Davidson, AM, who gave an enthralling talk on the WAG's history, powers and ambitions. She outlined the developments which she could foresee happening in the coastal areas of Wales and listed the problems, social and economic changes which will have to be tackled if we are to move to a more sustainable way of life, which she obviously regards as vital to the nation's long-term future. Her talk was followed by a lively discussion which left the members in no doubt of the seriousness and optimism with which the situation is viewed in the Senedd.
The following month the Club were fascinated by the overview of the work of Ceredigion County Council, presented by its leader, Cllr Keith Evans, who was able to illustrate his talk with events from his many years experience and his close involvement with many aspects of local government. The problems of meeting the electorate's expectations within the financial constraints imposed by successive governments were a recurring feature but he also had much good to say about the co-operation between the various agencies involved. He was proud of the many achievements in the area and was confident that the area can look forward to a bright future.
We were left with an abiding impression of the ability and dedication of our representatives and both speakers were warmly thanked for finding time in their busy schedules to address the Club.
J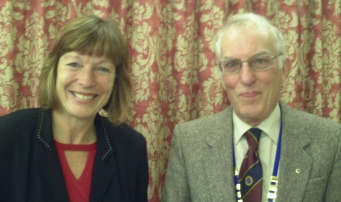 Jane Davidson, AM, with Peter Woolley, Probus Chairman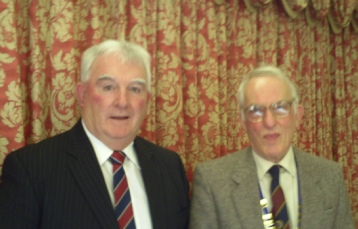 Cllr Keith Evans, Leader, Ceredigion CC, with Peter Woolley, Probus Chairman
The above comments were just a selection from a review of the play "Queen Elizabeth Slept Here" presented to the February meeting by a multi-talented cast of thousands thespians. For those who were unable to get a ticket, the full review is appended below.
"The presentation of "Queen Elizabeth slept here" by the Probus Players promised to be an intensely amusing half-hour, but as it turned out the most highly entertaining parts were the errors made by the so-called skilled cast in a convincing demonstration of group ineptitude. Being able to escape into the fresh air afterwards made you appreciate the good things in life."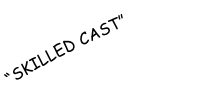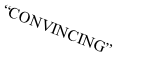 Seriously though, folks, it was an occasion which was enjoyed by all, especially the cast, and we must thank Ronnie Hind for the original idea and for seeing it through to fruition. We also thank all who took part in any way, as none are experienced on the stage and it was not easy to agree to make a fool of yourself in public, but it was necessary to make the morning such an enjoyable and different one.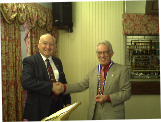 Ron Knowlton congratulates Peter Woolley on his succession as Chairman.