Programme of walks.
These walks are usually arranged from month to month and normally take place on the third Thursday of the month. Guests are welcome and advice on severity is given.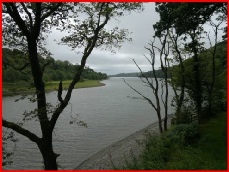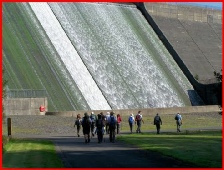 Thursday, 20th September
Llys y Fran Reservoir
A gentle, mainly level circular walk of up to 6 miles, but you can turn back whenever you feel like it. Meet at 10.30 am.
From Cardigan take Haverfordwest mountain road to the turning for Rosebush and follow road to Maenclochog. Drive through the village and keep right past the petrol station and follow the signs to the reservoir via Gwastad or via New Moat to Gwastad. Either way will get you there through Maenclochog. For those coming via Crymych just outside the village towards Narberth take the first right to Maenochlogddu to Rosebush then turn left to take you to Maenclochog. See you there!
The photograph on the right shows the intrepid team on their way to Everest around the reservoir. Seems they got pretty wet!
MAY WALK. 10.30 on 16th.
This is a circular walk of around 3.5 miles.
Drive on Fishguard Road to Newport. On Fishguard side of town turn left up road signposted to Cwm Gwaun.
Follow the road to a point on top of the Moor known as Bedd Morris where there is a car park layby.
Cross the road (Fishguard side) to join a bridleway along the moor through a gate down to a signpost. Bear left at the signpost , past a stone with painted blue arrows keeping left. Cross to a field gate and go through and turn left to walk to another signpost. Turn right up the hill to join a road. Turn left and walk downhill, past Russia? to a right angle bend. Keep straight ahead to join a footpath to a small holding, Pengwndwn, go past and follow through to an access road. Turn right and then left to go up hill back to the car park.
Relatively easy going - easy to moderate grade.
Bessie's at bottom of hill Gwaun Valley side?